Industry News
HKEx Launches the Application Service Provider Programme
Hong Kong Exchanges and Clearing Limited (HKEx) announced today the establishment of a framework to support Application Service Providers (ASPs). ASPs play a vital role in HKEx's market ecosystem by providing services to Exchange Participants (EPs) and connecting investors to HKEx's markets through EPs.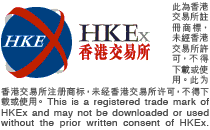 The new framework allows ASPs to contract directly with HKEx Hosting Services to establish an HKEx Service Network (HSN) link to HKEx's trading, clearing and market data systems that can be shared by their EP customers through individual HSN Virtual Ports (HSNVPs). EPs may be able to lower their operating costs and increase their efficiency by having an HSNVP and accessing HKEx products directly through an ASP.
So far, the following firms have confirmed they will sign up with HKEx Hosting Services to provide ASP connectivity service at HKEx's Tseung Kwan O data centre in Hong Kong:
2GoTrade Limited
Ayers Solutions Limited
iAsia Online Systems Limited
SunGard
In terms of market data, the new framework allows ASPs to enter into a licence agreement that permits them to connect directly to HKEx's market data platform and redistribute data from HKEx's markets to their clients that are HKEx-licensed information vendors or licensed end-users. ASPs with such an agreement can avoid the collection and reporting obligations of information vendors by acting as a licensed feed provider for HKEx market data.