SGX Uses DAML to Complete its First Digital Bond Issuance
September 1, 2020

Working with HSBC Singapore and Temasek, SGX completes pilot digital bond for Olam International.
As blockchain adoption and digital transformation trends continue to surge across Asia, Singapore Exchange (SGX) is paving the way forward in the bond market. The Exchange announced today it completed its first digital bond issuance on SGX's digital asset issuance, depository and servicing platform. Working with HSBC Singapore and Temasek, SGX successfully replicated a S$400 million 5.5-year public bond issue and a follow-on S$100 million tap of the same issue by Olam International. This marks the first step towards wider use of smart contracts and distributed ledger technology (DLT) for the Asian bond market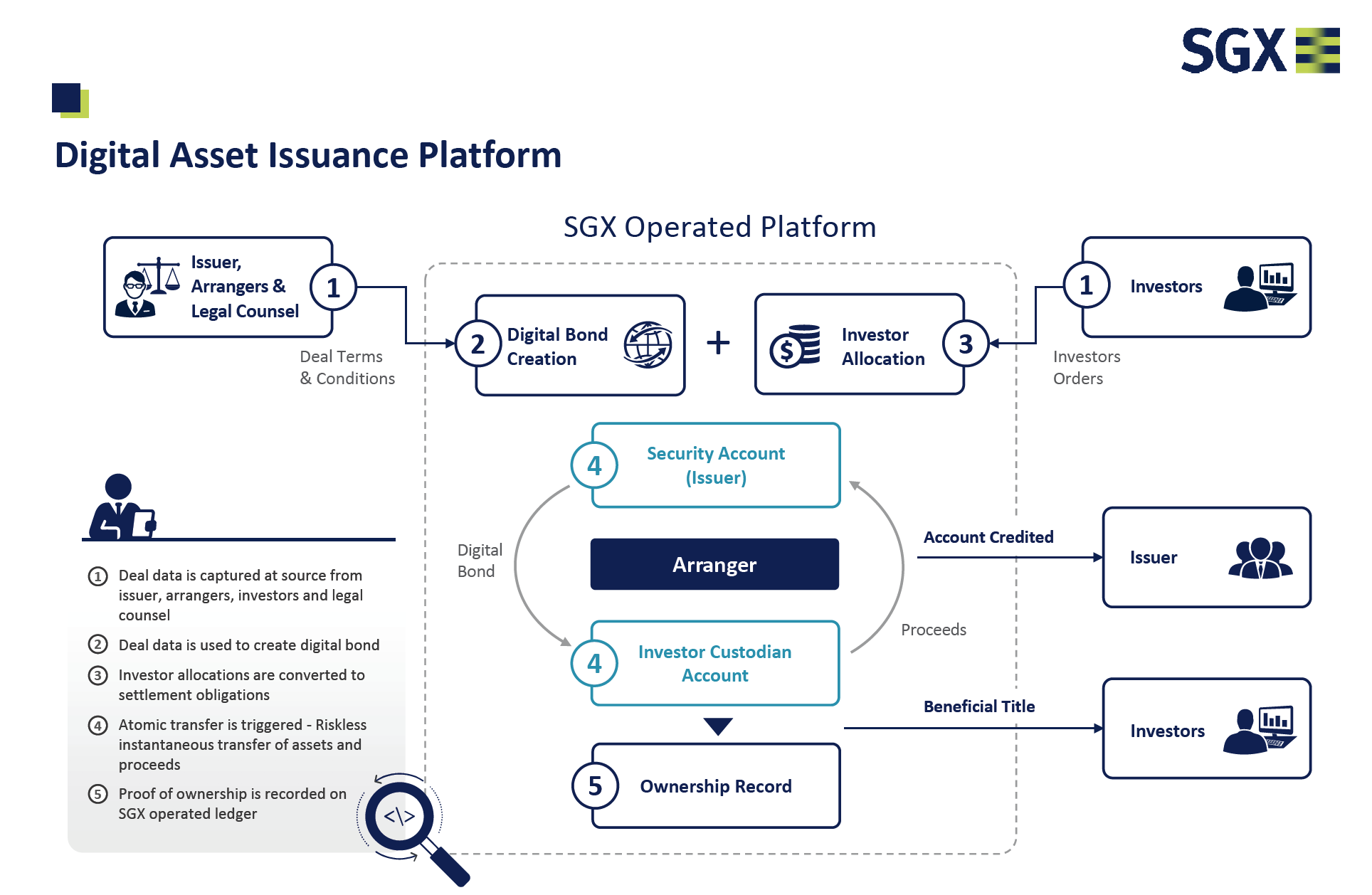 Source: Singapore Exchange
An Asia first for a syndicated public corporate bond, this digital bond marks another milestone in SGX's use of digital asset technology, by streamlining processes for issuers, underwriters, investors and ecosystem participants across primary issuance and asset servicing.
SGX utilized DAML, the smart contract language created by Digital Asset, to model the bond and its distributed workflows for issuance and asset servicing over the bond's lifecycle. SGX's solution uses smart contracts to capture the rights and obligations of parties involved in issuance and asset servicing, such as arrangers, depository agents, legal counsel and custodians.
Commenting on the announcement, Lee Beng Hong, Senior Managing Director, Head of Fixed Income, Currencies and Commodities (FICC), SGX, said "Debt capital markets globally are characterized by deeply engrained legacy systems and processes which can be made faster, more accurate and efficient with this new technology. DLT and smart contracts are rapidly evolving technologies, and our vision is to fully digitalize the end-to-end corporate bond issuance and asset servicing process. We look forward to playing a part in strengthening the fixed income market infrastructure of Singapore, Asia's fixed income hub for bond issuers."
Yuval Rooz, Co-founder and CEO at Digital Asset, added "The bond market is one of the last bastions of risk, holding on to paper and manual processes. Despite the growth in electronic bond trading, there are still many aspects that require manual intervention. SGX's DAML smart contract solution solves a major pain point market participants have been working to fix for years. We look forward to our continued work with SGX as they move to digitize the end-to-end bond issuance process."
Click here to read the full press release issued by SGX, HSBC Singapore and Temasek.
Source: Digital Asset