Industry News
NASDAQ OMX Builds Financial Cloud Platform with Amazon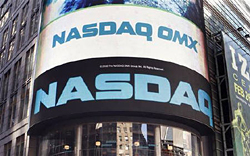 The NADSAQ OMX group launched the FinQloud platform, a new offering for the financial industry that leverages Amazon's infrastructure. The service aims to assist institutions with their financial data while conforming to regulatory standards. NASDAQ OMX believes FinQloud's ability to function with the advantages of cloud computing will provide an attractive option for potential users.
For now, the service will offer Regulatory Records Retention (R3) and Self Service Reporting (SSR) to its users. FinQloud's R3 feature was developed in response to a Securities and Exchange Commission rule stating that record retention obligations needed to be fulfilled at a significantly reduced cost and complexity. SSR was included to give brokers a tool to report and analyze stored trade data. With these requirements, it's not surprising that NASDAQ OMX decided to address these issues with a cloud-based application.
Given the sensitive nature of the information being handled by the service, FinQloud will be hosting the data in private datacenters. But this partnership is still a test of Amazon's ability to reliably handle mission-critical services. According to the official statement, all connections to FinQloud will pass through a "rigorous" encryption key management system, which will also be housed at private the NASDAQ OMX facilities.
"Financial services customers have unique regulatory requirements for many of their IT projects, and high expectations for operational performance. With the strong reliability, low cost, unmatched platform capabilities, and agility that AWS provides, NASDAQ OMX's FinQloud offerings, R3 and SSR, are tailor-made for AWS and cloud computing...With FinQloud, we're pleased that NASDAQ OMX will be able to combine their expertise in financial markets and regulatory compliance with the enterprise-class capabilities of the AWS Cloud," said Andrew Jassy, senior vice president of Amazon Web Services.
If the cloud platform passes the end user test without displaying any obvious security holes, it could boost the confidence of potential cloud adopters. Amazon, for its part, could use an image boost following a summer fraught with issues at their Eastern US datacenter.
Official statement:
http://www.nasdaqomx.com/newsroom/pressreleases/pressrelease/